*CANCELLED* Crafty Romans 2020
*In response to the COVID 19 pandemic this event is cancelled.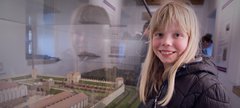 Following new advice in response to the COVID 19 pandemic and in line with other cultural organisations, we have taken the difficult decision to close all of our museums and galleries and the archives from 5pm on Wednesday 18 March.
This is provisionally until 1 May 2020 but we will be reviewing the situation and updating if anything changes.
Please sign up to our emails at mustseemuseums.org.uk and check our social media channels and website so we can keep you up to date with what's going on.
Thank you for your support and understanding at this challenging time. Stay well and we look forward to welcoming you back in due course.
Free family drop-in craft sessions inspired by the fort, its collections and colourful heritage.
Wednesday 8 April
Crafty Romans: Build a fort : Join us to make your own mini Roman fort. Learn about the different parts of the fort and their uses, then create your own.
Wednesday 15 April
Crafty Romans: Are you ready for battle? Join us to design and make your own Roman helmets and weapons to dress like a Roman soldier.