Crafty Romans 2022
Free craft packs to collect from the museum.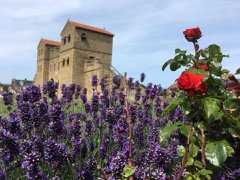 Free entry, donations welcome.
Drop in 11am-3pm.
Spaces are limited.
We reserve the rights to cancel or change the activity in the event of staff illenss.
Easter holidays
13 April
*Plant your own Roman herbs to take away. Bring your own clean yoghurt pot so you can recycle it into a plant pot (but don't worry we will have some for you to use).
*Due to a staff shortage, we are unable to deliver this activity on 13 April. We apologise for any inconvenience caused.
We are offering free tours of the site from 11.30am and 1.30pm, find out more about the tour here.
20 April
Make and design your own Roman dagger and pretend to be a Roman soldier in battle.
May half-term
1 June
Decorate a horse chamfron, the decorative mask a horse wore when going into battle.
Summer
27 July
Soldiers walked for 25 miles every day just for practice! Design your own soldier's boot to practice in.
3 August
Have a go at making your own Roman coin or a portrait of Hadrian out of clay.
10 August
Romans used mosaic tiles to decorate their floors and walls. Design and create your own mosaic on a coaster.
17 August
In Roman times, wool was spun and woven by hand to make cloth. Try making your own wall decoration with wool.
24 August
Archaeology- What do archaeologists do with objects once they've been discovered in the ground? Have a go at sorting and cleaning Roman artefacts.
31 August
Romans worshipped different gods and goddesses. You can often identify Roman gods and goddesses by the things they carry or wear. Try making your own Roman god or goddess crown and staff!