Frontier Voices: Face-off
A pop-up display showing Identity Pots created by the students of Hadrian Primary.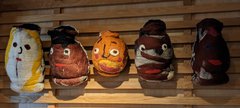 Until Friday 30 September
Donations welcome (free entry)
Drop in, no booking required
This pop-up exhibition displays 'Identity Pots' created by Year 5 students of Hadrian Primary School. The pots were inspired by real examples of Roman ceramic head-pots (sometimes also known as face pots).
The students worked with artist Karen MacDougall (Frontier Voices), creative assistant Clare Forsythe (Frontier Voices) and Arbeia's learning team to produce the pots using British wool and a special wet felting resist technique to make the pots 3D.

Arbeia, in Roman times, was a very cosmopolitan place with evidence of people from Mesopotamia, Spain, Syria and of Moorish descent as well as from different parts of Britain. Today South Shields is also a multicultural place - so there are definite similarities, past and present.
While crafting the Identity Pots the students explored their own identities. They were also asked to consider what is known about the identity of the people who were at Arbeia in the past by assessing the evidence they left behind. This evidence can be found on tombstones and inscribed on artefacts.
Part of Hadrian's Wall 1900 Festival, celebrating 1900 years since the building of Hadrian's Wall.
---
About Frontier Voices

Frontier Voices is an arts based creative exploration of perceptions of Hadrian's Wall World Heritage sites and landscapes. Diverse groups of participants and communities along the Wall and at some of Europe's Roman Frontiers will create artistic outcomes and share experiences.