Bracelets activity
This activity is aimed at families to help discover the wonder of Roman objects in our collection.
Bracelets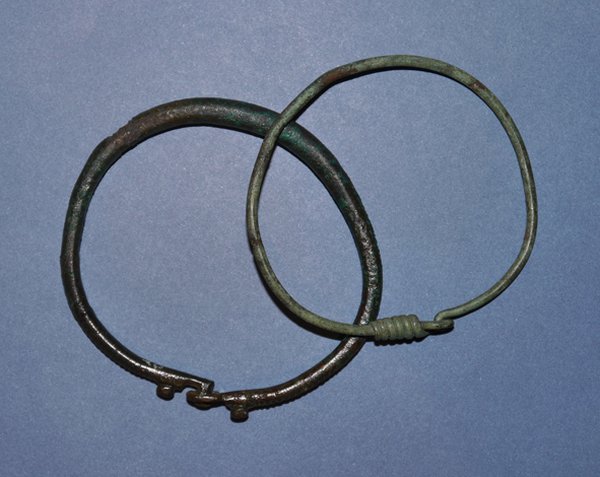 Bracelets and bangles found on Roman-British sites were made in a variety of materials. Most common were those of nonferrous metal ( iorn) and the black shiny materials such as jet and shale. Glass bangles and bracelets of bone, antler and ivory were also worn.
The bracelet to the right was made from plain copper alloy wire, with the eye for the hook fastener made by simply twisting the wire round to form a loop. The bracelet to the left was cast in a mould and has a fancier hook and eye, as well as ribbed decoration on the outer edge. Like nowadays, fashions in jewellery changed and wearing bracelets was never very popular in Roman Britain until the fourth century.
Activities
Take a good look at both bracelets
What do you see, notice and wonder about them? What type of woman would have worn them, rich, poor, slave, commanders wife or daughter, etc?
Now it's your turn
Using materials, you have around the house, try and make your own bracelets. Will they be simple or decorated?
More online activities to enjoy