KS1 & KS2: History, Literacy, Art and Design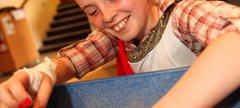 Cost: £75.00 within Tyne and Wear. Transport charges apply beyond; please contact the learning team for a quote.
The Time Quest Taster Assembly lasts for approximately 60 minutes.
If you would like to make an on-line enquiry for this assembly, please complete the enquiry form, or if you wish to speak with one of our learning team to discuss your visit please call the learning team on 0191 2115599.
Time Quest Taster is a dynamic and hands on class assembly introducing schools to local Roman history through the study of archaeology.Using an authentic collection of ancient Roman finds children gain knowledge and understanding of how an archaeologist makes deductions from the artifacts they discover. Historical enquiry questions such as 'What can we see?' and 'How do we know?' help children make the link between what is learned through books and the evidence used to make those statements.

All sessions begin with a special " Detective" warm-up so please hang onto your class room garbage!