Roman Army Life - guided tour of the Fort and reconstructed Roman buildings
Booking Enquiry
KS2 & KS3: History, Archaeology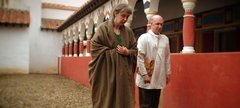 Charge: £35.00
Maximum of 30 children per session.
This 30 minute tour will take place outside on site.
If you would like to make an on-line enquiry for this tour, please complete the enquiry form, or if you wish to speak with one of our learning team to discuss your visit please call the learning team on 0191 2115599.
Unravel the mystery of the excavations!
Why did the Romans build a fort in South Shields? How did it link to Hadrian's Wall? What was life like for the soldiers at Arbeia 2000 years ago?
This interactive tour will show your class how we can learn about the Romans from what they left behind.