Getting the most from your time here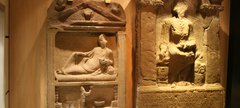 *Arbeia South Shields Roman Fort is temporarily closed.

Self-led visits are free but booking is reccomended.
All sorts of schools and colleges enjoy the flexibility of making self-led visits. It's good to let us know in advance as we can advise on what else is on and how busy the museum will be that day. In addition we can advise you on resources, spaces for lunch, borrowing clip boards and anything else you might need.
Many groups add a self-led session to their day, either before or after a workshop allowing their learners freedom to explore the collections in the museum and fort site more fully.
See our Resources for learning