Learning for Schools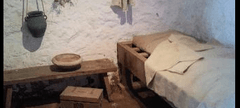 If you are interested in discussing booking an Arbeia Roman Fort virtual workshop or have any other queries, please contact stlearning@twmuseums.org.uk.
All sessions can be adapted to suit individual needs.
These workshops can be done together to give your students the best learning experience.

The Virtual Dig
In this interactive archaeology workshop children will conduct archaeological investigations on various Roman artefacts found at Arbeia Roman Fort. Your class will learn how the Romans lived at this important site from what they left behind.
Through keen observations skills, sketching, report writing and group discussion, children will connect with the people who lived and worked at Arbeia Roman Fort.
Interviews with our archaeologist, worksheets and sensory support materials list included.
Duration:1 hour
Price: £60
Arbeia On Tour
Using green screen technology, your class will march as soldiers through the fort and reconstructed Roman buildings to find out what life was like for the soldiers at Arbeia 2000 years ago.
Sensory support materials list to help bring this workshop to life and extension activities are included.
Duration: 45 minutes
Price: £45