New and coming soon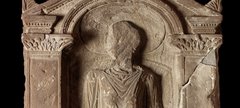 Literacy, SEND, KS 2, Local History
Duration: 30 minutes
Price: £30
Adaptable storytelling sessions based on historic stories written by local writers and artists about smuggling along the South Tyneside coast, coal mining, Roman history, and featuring local heroes, such as Kirkpatrick and his donkey and Dolly Peel.
In these storytelling sessions, children learn how to use simple props that can be found or made at school or home to bring stories to life. Each session has sensory activities which can be adapted for a range of mobility so all children can take part – both those able to freely move and those with profound and multiple learning disabilities.
Children can collaborate to write or tell their own stories and collect or create sensory objects that will bring their tale to life with sounds, texture, and movement.
Workshop includes supporting resources, such as a suggested sensory materials list and a story telling template.
For more information contact: stlearning@twmuseums.org.uk