NEW - SEND, PLMD, KS1 & KS2: Local History, Literacy, Health and Wellbeing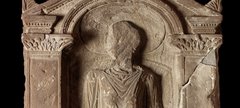 SEND, PLMD, KS1 & KS2: Local History, Literacy, Health and Wellbeing
Duration: 60 minutes
Price: £75
Adaptable storytelling session that will take you back in time 2000 years to discover the story of the famous Regina at Arbeia, South Shields Roman Fort.
In this session children will take part in a digital storytelling experience where they will learn how to use simple props to create the sights, sounds, smells, touch, and tastes to bring the story to life.
Each session has sensory activities which can be adapted for a range of mobility so all children can take part – both those able to freely move and those with profound and multiple learning disabilities.
Activities include writing their own stories and creating their own props to bring the story to life, creating a soldier's boot, dressing up, role play and object handling.
These sessions can also take the form of virtual story-telling sessions.
For more information contact: stlearning@twmuseums.org.uk